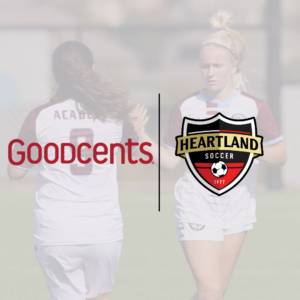 Goodcents becomes the Exclusive Sub Sandwich Provider of Heartland Soccer
OVERLAND PARK, Kan., September 9, 2021 – Heartland Soccer, America's largest league and tournament host, recently announced a multi-year partnership with Goodcents, a locally owned business, who has been named the Exclusive Sub Sandwich Provider of Heartland Soccer.
This official partnership comes after a decade-long relationship between Goodcents and Heartland Soccer. In addition to its corporate sponsor designation, Goodcents will have high brand visibility at some of the most premier soccer facilities in the region, including GARMIN Olathe Soccer Complex and SCHEELS Overland Park Soccer Complex.
Additionally, Goodcents will provide exclusive deals to Heartland Soccer's audience, which includes more than 2,000 referees, 1,350 league teams each season, 2,800 tournament teams and more than 3 million visitors annually to the soccer parks.
"Joe Bisogno founded Goodcents more than 30 years ago with a strong commitment to the community, and he has encouraged us to help our communities in any way that we can," said Jami Bond, vice president of franchise development at Goodcents. "After working with our friends at Heartland Soccer Association for more than 10 years, we are excited to make our partnership official as their exclusive sub sandwich provider. We look forward to helping Heartland even more as we move forward together."
"We are very excited for our new partnership with Goodcents. Great food, great service and great people," said Shane Hackett, executive director of Heartland Soccer. "We are very appreciative of Goodcents for their commitment and continued support of our players and families."
About Goodcents
Goodcents has more than 31 years of experience as a leading sub sandwich franchise. Founded in Lenexa, Kansas, and headquartered in De Soto, the company is known for its signature soft bread baked fresh twice daily in the restaurants, meats and cheeses hand-sliced to order and hearty pasta and other conveniently packaged dinner entrée options ready to go. To learn more about Goodcents, please visit goodcentssubs.com. For franchise opportunities, visit ownagoodcents.com.
About Heartland Soccer Association
Heartland Soccer is the largest youth soccer league in the country with more than 1,350 league teams per season, 30,000 league youth players, 2,700 tournament teams each year, 44,000 tournament players each year, 4,000 coaches and over 3,000 active referees. Heartland Soccer Association was formed in 1977 and has grown from an initial 600 players to serving teams from 16 states and internationally with league and tournaments. For more information, visit http://www.heartlandsoccer.net.
Heartland Soccer has several opportunities for league and tournament sponsorship. Heartland partners with like-minded businesses who understand that investing in young people today creates a better community for all in the future. Partners are important team members in creating an increasingly growing soccer family in our community. Sponsorship provides businesses with increased brand visibility while making a direct impact on developing Kansas City's youth through soccer. For more information on sponsorship, please contact Bridgette Samuelson, Director of Partnership Development and Operations at bridgette@heartlandsoccer.net.
.